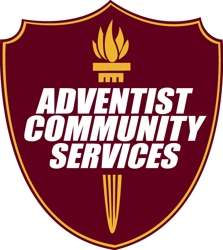 What does Adventist Community Services do?
Adventist Community Services (ACS) has been established as a humanitarian relief, and individual and community development ministry to fulfill the mission of the Seventh-day Adventist Church in the United States and Bermuda which is to "serve communities in Christ's name". ACS provides services through the ministries of as Disaster Response, Crisis Care/Disaster Response Chaplaincy Program, Youth Empowered to Serve, Tutoring and Mentoring Programs, Elder Care, and Community Development/Urban Ministry/Inner City Ministries."

What is our Vision?
To integrate continuing leadership education, build collaborative partnerships and expand our scope of community services.
Adventist Community Services evolved from historical efforts by the Seventh-day Adventist Church to develop community initiatives. In 1874, the Church officially recognized the Dorcas Society as its organized community outreach program. In 1956, this organized Church program became the Seventh-day Adventist Welfare Service (SAWS) with the purpose to strengthen Adventist relief efforts. As the Church grew in developing countries, the need for international relief activities increased, causing the Church to focus its community missions to domestic and international fields. As a result, SAWS expanded into a domestic and international Church-organized community program. In 1972, Adventist Community Services was officially titled the domestic humanitarian Church agency and in 1973, the international program was named the Seventh-day Adventist World Service, now known as the Adventist Development and Relief Agency (ADRA) International.


History of Services
---
Disaster Response
For more than 100 years the Seventh-day Adventist Church has provided emergency relief in times of disaster. In 1969, Adventist Community Services became a charter member of the National Voluntary Organizations Active in Disaster (NVOAD). Since 1974, Adventist Community Services has operated in partnership with the U.S. Federal Emergency Management Agency (FEMA), which recognizes Adventist Community Services as an established nonprofit disaster agency.

Community Development/Inner City
Seventh-day Adventists have been working to meet the needs of cities large and small across the United States for more than ten decades. As early as 1883, church-organized inner city and urban missions were initiated which have grown over the years from small hospitals to the vast array of inner city services we currently provide.

Youth Empowered to Service (YES)
Youth and young adults are an important part of any ACS Ministry. Youth Empowered to Serve (YES!) is founded on the principles of mentorship, leadership development, and community action. It provides a network of service-driven youth and young-adult ministries across the North American Division and promotes service-learning as a teaching strategy to Adventist educators. Giving young people opportunities to serve challenges them to live like Jesus and become positive contributors to their communities.

Tutoring & Mentoring
Adventist Community Services strengthened its services in tutoring and mentoring in response to the Alliance for Youth goal of educational assistance for disadvantaged children, which was explicated at the President's Summit for America's Future in 1997, where Presidents Bush, Carter, Clinton, and Ford with Nancy Reagan representing Ronald Reagan challenged the nation to make children and youth a national priority.

Elder Care
This ministry promotes Christ-centered, practical and sustainable solutions to successful holistic aging. It coordinates education and services related to aging, health, finance and social issues for seniors in the church and community in collaboration with community-based elder care programs.

Crisis Care
Crisis intervention is a type of psychological first aid used to defuse emotional trauma for survivors of a disaster, terrorist attack, assault, or other traumatic event. It is not counseling or therapy but may assist survivors in regaining control and successfully integrating the trauma into their life story